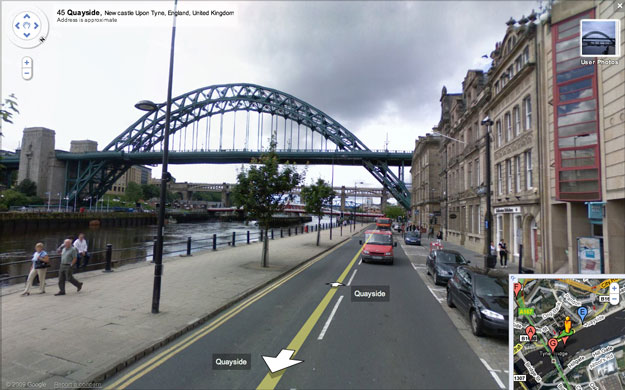 Back in July I wrote about the controversy surrounding Google Street View. I supported the facility, which allows users to get a street level view via Google Maps.

Today the service went live in the UK with photographs at street level for 25 cities across the UK from Southampton to Glasgow.

The moment I saw the service had gone live I mentioned it to the people I'm working with. Within minutes we were all looking at street level views of our homes, previous homes, parents homes etc, as though we'd never seen them before.

I don't know why we experienced such a compelling fascination to stare at our own homes, as captured by Google, but we did.

How has Google managed to make everywhere look so sunny and bright? It doesn't seem to be raining anywhere - not even Glasgow! It's summer in all the streets I visited, which makes the world look nicer. Nicer than the bare winter trees we have now at any rate.

Not only that but Google, after requests from the Information Commissioner has blurred all the pedestrians' faces and car number plates to allay privacy concerns.

It's not only me, Channel 4 News has been busy searching too. C4 News has just reported that it has found faces which have not been blurred. They show someone leaving a sex shop whose face has been missed (although subsequently blobbed by C4). A google spokesperson says anyone can ask to have their face blurred, or even their image removed if they've been missed.

No one is quite sure how google stands to pay for their work - other than increased traffic to their site, which they certainly got among my team tonight. Mind you we use google many times a day anyway.